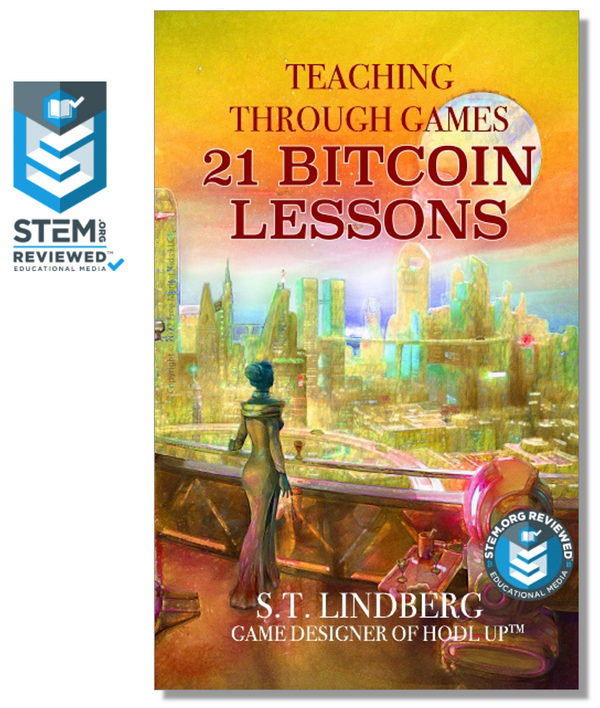 Announcing "Teaching through Games: 21 Bitcoin Lessons"
FOR IMMEDIATE RELEASE (February 2023)
Introducing Teaching Through Games: 21 Bitcoin Lessons©, the best and easiest way for the new and curious to delve into learning Bitcoin basics.
(Crestwood, KY) - Free Market Kids, a local education company, is excited to announce the release of Teaching Through Games: 21 Bitcoin Lessons©. This book accompanies the tabletop game, HODL UP™️. Together, the book and the game are powerful tools to effectively and quickly teach a newcomer about Bitcoin. Both the game and the book are STEM.org authenticated and certified.
Here are insights that you'll discover within:
From a personal savings perspective, everyone is looking for a long-term store of value to protect against our inflationary monetary system. Understanding key Bitcoin concepts can be the difference between smart money decisions and getting wrecked on exchanges.⠀
  ⠀
From a humanitarian perspective, Bitcoin is freedom money for the un-banked and those living in hyper-inflationary countries. ⠀
⠀  
From an energy perspective, Bitcoin drives healthy incentives, e.g., capturing previously flared methane and balancing electric grids using solar and wind. 
Get your own copy of Teaching Through Games: 21 Bitcoin Lessons© at www.21bitcoinlessons.info.
For more information about Free Market Kids, visit the company's website at www.freemarketkids.com or contact the founder directly at Scott@freemarketkids.com.
About Free Market Kids: It is an education company committed to creating teaching tools such as tabletop games and courses that make teaching money concepts easy and fun.